The cellar
We strongly believe that a wine is made on the vineyard, so every single part of the winemaking process at our cellars is focused on respecting this. We indulge the fruit so that the final result, our wines, is no more than the pure reflection of terroir.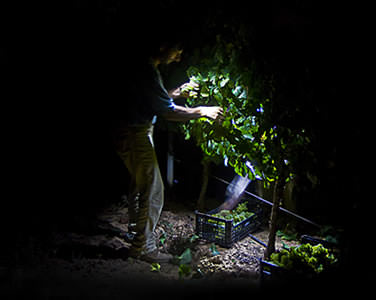 Night harvest
We harvest at night in order to minimize oxidation of the grapes and thus prevent possible loss of aromas. The aim is to preserve the freshness and integrity of the grapes on arrival at the winery.
Partial freezing of the berries
By this method, we freeze just the skin of the berries, not the pulp, in order to break the skin cells where the elements that give a wine colour, aroma and structure are found, ensuring maximum extraction of fruit character.
The selection table
After a thorough destemming, and before the grapes go through the maceration and fermentation processes, we carry out a second selection of the best berries on vibratory selection tables.
The winemaking
We take very special care of the winemaking process, keeping temperature at both the cellar and the tanks under control at all times, and adjusting it to each wine so as to preserve the character of every grape variety.